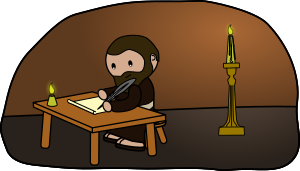 Many schools or organisations may have their own ways of planning a lesson that they want you to follow, but I wrote this guide for anyone who is new to ESL lesson planning and doesn't know what to do.
If you start work at a school or organisation, sometimes training only lasts a few days before you are thrown into the classroom without any support. I remember my first training was not great, and I was thrown into a classroom alone with twenty first graders who basically ate me alive. Many school are reluctant to invest a lot of time into training teachers when you could be working instead, so sometimes these skills are really something you have to learn yourself.
Children have very short attention spans and have difficulty staying focused for long periods of time. Instead of spending one hour on vocab, another on phonics, and another on reading, it's best to break a lesson up into small segments and do a little of everything each week.
it's fine to spend longer on an activity or segment if the children are doing well, but it's probably best to move on if they lose focus or begin dozing off in class.
Here in an example lesson plan which I would use for a 50min elementary school ESL class.
| | |
| --- | --- |
| | |
| | |
| | |
| Review old material with a song or game | |
| | |
| Song using the new material | |
| Game to reinforce the new material | |
| | |
| | |
| | |
My classes have a lot of songs because I think they are great for helping them remember vocab and improve pronunciation. You don't need to sing this many songs, but I highly recommend one or two songs every lesson. You can check out my great guide on teaching songs
here.
I also can't stress how important it is to
constantly review the old material
. Most children living in a non-English speaking country may not use English outside of class, so they quickly forget important words and grammar. Some textbooks are great and have tones of repetition, but others not so much so, and you will need to review old grammar and vocab whenever you get the chance.
Get the right balance of active and sitting actives
Small children have difficulty sitting for long periods of time, some of them might even go to sleep, so it's best to have the right mix of active and sitting activities. If you need to kids to sit and study for twenty minutes why not throw in a small game after ten minutes to get their concentration back before making them return to their textbooks. Even standing up to sing a song is a great way to get them moving again. You really want to aim for something along the lines of
active activity, sitting activity, active activity, sitting activity.
Practice makes perfect
If you are new to teaching it's not a bad idea to practice the entire lesson to an empty room. Teaching small kids is a little like being in a play, so practicing again and again is a great way to gain confidence and you will quickly realise what parts of your lesson may need more work.
Don't forget classroom management!
No matter how great your lesson is, it can quickly go downhill without classroom management. Classroom management is something that some companies chose to gloss over during training so please check out my great guide on controlling the children
here. http://www.kidsesl.net/2015/03/classroom-management.html
You can also check out Kids ESL's great collection of
Songs
and
Games
that you can use when teaching your students.
Have any great lesson planning tip? Feel free to comment below.
Follow Kids ESL
Follow @kidseslblog