Many teachers prefer not to assign homework because they find the preparation and marking troublesome. Unfortunately many students who live in non-English speaking countries have few opportunities to practice English outside of class. They may also only have one class a week, so they can quickly forget your lessons and have difficulty keeping up. Therefore homework is a great way to help retain material and help them practice English outside of class. Some schools may already have set homework that you must give the students, but here are some great homework ideas for if you find yourself on your own.
Homework should be mostly revision of things they have already studied. You can use the most recent material, or material from a few units ago. It's best just to keep it easy and try not to give them too many things that they don't know. Many children don't have anyone who can help them at home, so if the homework is too difficult the students may become disheartened and dislike studying English.
You also need to take time into consideration when assigning homework. It may not be best to give them a lot if you don't have enough time to mark it, or you could make the students mark each other's at the beginning of each lesson. Many students may already have a lot of homework from school or extra curricular activities, so it's probably best to start of giving them a page and see how well they cope. You can try increasing the homework if the students find it too easy.
If you would like to make your own worksheets
Google Docs
and
Google Drive
has great free software that you can use online. You can also save all your documents onto an online drive and access them from anywhere in the world. You can also make your documents public and share them with your friends and co-workers.
Here are some other great homework ideas that you can use in your classes.
Handwriting Worksheets
Handwriting worksheets are a great way to improve handwriting and help remember new words and vocabulary. It's mostly just writing, so it's easy for the students to do without the aid of a teacher.
If your students are still new to writing you can check out these great ABC writing worksheets here.
The students may already have a notebook that they can use for writing, but there are plenty of great handwriting worksheet generators out there on the net. Some great ones are.
Unfortunately the students quickly become bored with just writing the same thing over and over again, so you can make it more exciting by printing a fun quiz or wordfind on the back of the page. Scroll down to see more quiz websites.
Quizes and Wordfinds
Quizes such as crosswords and wordfinds are a fun way for kids to practice reading and help
remember new words. You may remember some of them from your childhood. Here is an example of a wordfind that I made using a site called
A to Z Teacher Stuff.
Many online wordfind generators even let you chose the difficulty and shape.
You can check out my guide on wordfinds here.
Great Wordfind Generators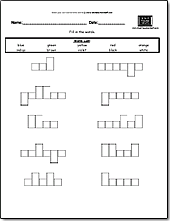 Wordshapes
Wordshapes puzzles are a great way to help students understand where to positions letters while writing. You can check out this great wordshape generator below.
A to Z Teacher Stuff
Crosswords
Crosswords are also fun for kids. Try using the pictures of the vocab as hints.
Fill in the blanks
Making your own fill in the blanks worksheet with vocabulary or sentences is another great way to help your students practice spelling. It can be as simple as taking a copy of their textbook and whiting out some of the words.
Workbooks
If the students have an English workbook, assigning the pages to do at home instead of in class is a great way to give them homework and practise something else during class time. Some workbook activities can be very difficult, so try to give them an easy activity and save all the difficult ones for class.
Listening to the CD
If the student's textbook has a CD, listening to the CD and repeating after the speaker is a great way to practice listening, pronunciation, and review old material. Unfortunately with the rise of MP3, some students no longer have a CD player at home, so it's best to check with all the students before assigning any CD based listening activities.


Computer based activities
Computer based actives and online quizzes for children are great because the kids can study and listen to correct pronunciation on their own. Unfortunately many students may not have access to a computer, the internet, or find using a computer too difficult, so make sure to check with your school and students before assigning any computer or internet bases activities as homework. You can use a website called
TinyURL
to make long links shorter for your students.
Starfall.com www.starfall.com
Starfall is a great online website for kids which is all about learning to read. Many of my students love it and regularly try the phonics quizzes in their free time. I even assigned certain phonics quizzes for one of my students to do as homework.
YouTube
www.youtube.com
Youtube now has a large collection of ESL learning videos and songs.
You can check out some videos that I recommend here.
Recently I've tried assigning videos to some of my private students and making them fill out a worksheet with some simple questions. It's a good way to help them practice listening in their free time and hopefully encourage them to watch more English materials.
Great websites for homework help.
Need help with your own homework, or have students who are looking for extra help?
Click here to check out this great website called Homework Help.
They have plenty of online teachers who can assist you online and it's far easier than trying to find a tutor.
Have any other great homework ideas? Feel free to comment below.
Follow
Kids ESL