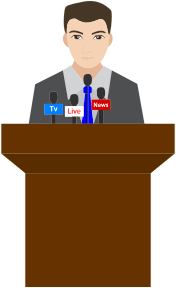 If you teach English you may inevitably be asked to judge, or train students for a speech contest. If can be a little difficult or confusing if you have never done it before, and you may be given very vague expectations. Therefore I've written some great tips on how to help students train for their speech contest.
If students join a speech contest they will usually be judged on the following things.
Fluency
Pronunciation
Intonation
Speech content
Presentation (using hand gestures and facial expressions)
Volume (Using a loud voice)
Most students have to write their own speech either in English or their native language. You may inevitably be asked to edit speeches that have been translated by a teacher or Google. In many cases you may have to rewrite the entire speech into more understandable and natural English.
Students with more natural spoken English usually score more points than students who have trouble with pronunciation, but once the students all have the same level of English, their speech content becomes quite important. Some younger kids may have a very easy speech that could just be a self introduction, but for more advanced contests, try to make sure that the speech has a point or an overall message that the students are trying to convey. Popular themes are future dreams, the environment, improving society, and how to get along better with others.
While editing the speeches try not to use too many difficult words, or words that the students can't pronounce. Check to see if the speeches have a time limit and make sure it is not too long. The students must say it at a regular speed without talking too quickly. It may be best to shorten the speeches of students who have trouble memorising, or need more time to speak English.
Pronunciation and Intonation
Pronunciation is obviously very important and counts for most of their mark. You need to make sure that the student doesn't mispronounce words, can be understood well, and speaks slowly and gradually. You can practise by having the student repeat after you, and practise saying more difficult words with the student until they can say them more naturally.
It's also a great idea to record your own voice onto a CD that the students can take home and practise with. It's best to record one track where the say the speech very slowly, and then one more track where you say it at normal speed. Make sure to put some emotion into your reading so that the students know where to show emotion in their speech. Making a CD also helps the students remember their speech as well.
Memorising the Speech
After mastering the pronunciation the students must then memorise their speech. If the students get stage fright on the day, the speech contest may allow you to prompt them, but they will loose points.
Presentation
Next you have to work on how the students present their speech. Do they smile at the beginning to create a good first impression? Do they show emotion when talking about the content? It's also important that they speak in a loud voice so that the audience can ear them easily. A great way to practise speaking loudly is to go to a large open space, and then stand far away from the student as they make their speech.
You also need to add gestures and hand movements to the speech. It doesn't look good if they stand their like a block of wood, but they don't have to create gestures for every word. Also try to avoid gestures that are too large or unnatural. It's best to do more natural hand movements that help emphasise certain parts of the speech.
Eye contact is also important, so make sure that the student looks at the audience and the judges when giving their speech.
Combating Stage Fright
Stage fright is going to be one of your biggest enemies. I've seen lots of good students lock up in front of an audience, or students that start off well, but then become nervous and start speaking like a robot. You really need to the students to practise in front of large groups of people before they compete in a contest.
They can practise in front of their friends, parents, or teachers. Try to make them speak in front of their whole class, or even in front of their whole school assembly if they get the chance. Plenty of practise will help calm some of those speech contest nerves.
Final advice
After mastering all the basic skills, all that is left is to help the student practise and refine all the small details. It's a chance to fix all the small pronunciation mistakes and refine every aspect of their presentation. Asking the student to record a video of themselves and then play it back in a great way for the student to see what they look like on stage. Practising in front of a mirror is also good practise.
It's also a good idea to watch or read the speeches of students who have won the contest in the past. Some judges value pronunciation, while others may value presentation or speech content. All judges think differently, so try and find out what they looking for if possible.


Here are some videos of students giving English speeches. It may be difficult to train your own students to this level depending on their ability, but it's a good way to see what a speech contest looks like.
Prepare for the tears
Unfortunately only a few students can win. If your students hope to do well they need to put a lot of work in, and they will undoubtedly get disappointed if they don't get a good score. Please reassure your students that they did a good job, and that the winner won due to have more experience and more advanced English skills. Encourage them to continue their English studies and try again the following year.
Have any great advice about speech contests? Feel free to comment below!